How to safely dispose of used Novo Nordisk products
After your injection, it's important to immediately dispose of your needle or syringe in a sharps disposal container. You should also dispose of used injectable devices like Novo Nordisk pens and vials through a drug collection program or by placing the device or vial in an appropriate container according to local laws.
Where can I get a sharps disposal container?
If you don't have a sharps disposal container, residents of select states can get one free by filling out the form below. Or you can make your own by using a household container (like an empty laundry detergent container) that is:
made of a heavy-duty plastic
can be closed with a tight-fitting, puncture-resistant lid, without sharps being able to come out
upright and stable during use
leak-resistant
properly labeled to warn of hazardous waste inside the container
What do I do when my sharps disposal container is almost full?
Some states or towns have laws or regulations about how to throw away used needles and syringes. When your sharps disposal container is almost full, you will need to follow your community guidelines for the right way to dispose of it. If you request a free sharps disposal container from Novo Nordisk, we will take care of safely disposing the container for you. The documentation within your shipment will include return shipping directions.
For more information about safe sharps disposal, and to find a disposal location near you, visit safeneedledisposal.org.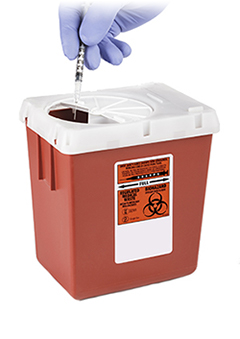 ¿Habla español?
Por favor, llame al 1-877-438-0564 si tiene preguntas.
Remember:
Don't throw away loose needles or syringes in your household trash or recycling
Keep your sharps disposal container out of reach of children and pets
Don't put your used sharps disposal container in your household trash or recycling unless your community guidelines permit this

Order a free sharps disposal container
*Required field